The AerisVIEW™ platform brings smart cities to life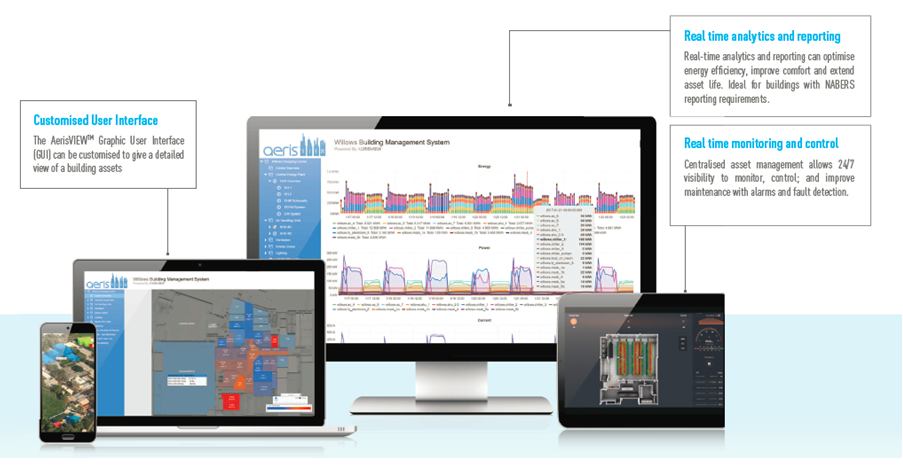 The Smart Choice for Real Time Building Performance
The AerisVIEW™ platform brings together energy monitoring, smart lighting, utility network assets and mobile equipment and combines it with the Building Management System to deliver a real time view of the plant and equipment.
Real time centralised monitoring and control can deliver time savings by assisting with predictive maintenance programs. Real time reporting can be customised to meet the needs of each client.
The Smart Choise for Real Time Control and Visualisation
AerisVIEW™ allows building managers to easily view the performance and operation of their HVAC assets. Alarms and automated fault detection provide real time alerts so assets can be maintained and serviced for optimum operation.
The Smart Choice for the Environment
The AerisVIEW™ Mplatform brings Smart Cities to life with a whole of system approach to building optimisation with a centralised asset management system. Designed with the building operator and manager in mind, the user-friendly interface delivers real time visibility and real time results. Used in conjunction with AerisGuard™ Manti-microbial cleaners and treatments and AerisCoat™ corrosion protection, Aeris Environmental whole of system approach improves energy efficiency, reduces running costs and maintenance costs, improves occupant comfort, extends asset life and therefore minimises the total life cycle cost of ownership. Not only does it deliver significant emissions reduction by using less electricity, it is also environmentally safe and OH&S compliant.

PDF Brochure Downloads
Aerisview Brochure